According to the AMIS May Month report, conditions are favourable for wheat, maize, and rice, while mixed for soybeans.
Rice conditions are favourable across Asia as China begins sowing the single-season crop. In China, early-planted rice enters the vegetative stage while single-season rice sowing begins. Conditions are favourable for the Rabi crop in India as harvesting begins. In Southeast Asia, harvesting is progressing for wet-season rice in Indonesia and dry-season rice in the northern countries.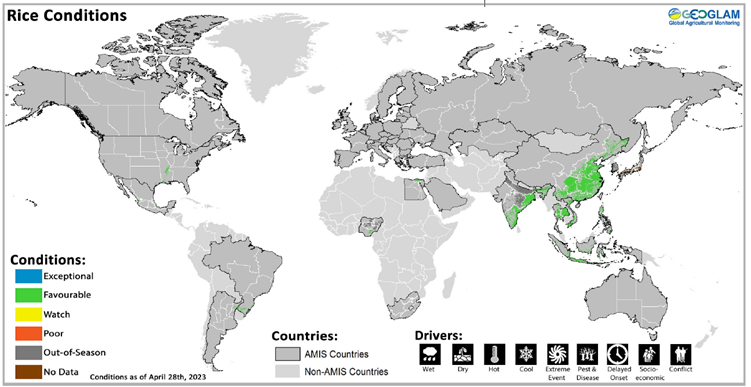 In China, conditions are favourable as early-planted rice is in the vegetative stage and the sowing of single-season rice is beginning.
In India, conditions are favourable for the Rabi crop as transplanting is wrapping up and harvesting is beginning in some southern states.
In Indonesia, harvesting of wet-season rice is continuing under favourable conditions, albeit at a slower pace than last year.
Sowing of dry-season rice is beginning with good irrigation water levels.
In Viet Nam, conditions are favourable for dry-season rice (winter-spring rice) across the country as harvesting continues in the South with yields slightly above last year's level due to good weather and lower fertilizer costs. Sowing of wet-season (summer-autumn rice) is beginning in the Mekong River Delta earlier than last year.
In Thailand, the harvesting of dry-season rice is progressing with good yields due to sufficient water and favourable weather.
In the Philippines, dry-season rice harvesting is more than halfway complete under favourable conditions due to average to above-average rainfall.
In Brazil, harvest is wrapping up under favourable conditions.
In the US, sowing is progressing under favourable conditions.
World supply-demand outlook
RICE production in 2022/23 raised somewhat, as upgrades for Myanmar and some African and South American countries outweighed a small reduction for the Philippines.
Utilization in 2022/23 lifted and seen falling minimally short of the 2021/22 all-time high.
Trade in 2023 (January-December) increased slightly m/m, as less subdued import prospects for the Philippines and Viet Nam outweighed a downgrade to Nigerian import forecasts.
Stocks (2022/23 carry-outs) little changed m/m and seen falling 1.3 percent below their record opening levels due to stock reductions in importing countries.
Among exporters, build-ups in Thailand and, especially, India could help compensate for expected drawdowns in most other exporters.

International prices
Average international rice prices were stronger in April, largely reflecting prospects for heavy Indonesian purchasing. Thai prices were firmer as exporters covered earlier commitments and looked to potential sales to Indonesia, albeit as gains were pared by off-season harvesting and weak demand from other buyers. Vietnamese quotes were likewise stronger as winter/ spring crop harvesting drew to a close, amid solid local and Indonesian demand. Indian white rice values were underpinned by tight supplies, albeit as parboiled quotes softened on rabi-crop harvesting. In the context of overall limited activity, offers in Pakistan remained supported by tight fundamentals following a sub-par crop.
Policy Developments
On 3 March, the European Commission adopted stricter rules on the presence of arsenic in foodstuffs, including rice. These rules reduce maximum admissible levels of inorganic arsenic in white rice and introduce maximum admissible levels of arsenic in rice-based food items.
Source: AMIS: The above is an extract from the AMIS May 2023 market monitor published this week. It covers international markets for wheat, maize, rice and soybeans. This extract relates to Maize only.  To read the complete edition click here.