According to the AMIS May Month report, conditions are favourable for wheat, maize, and rice, while mixed for soybeans.
Soybeans as harvesting continues in the southern Hemisphere are mixed with exceptional conditions in Brazil and poor in Argentina. In the southern hemisphere, harvest is wrapping up in Brazil under exceptional conditions, while in Argentina, harvesting is ongoing for both the early-planted and the late-planted crops with poor yields. In the northern hemisphere, sowing is beginning in the US.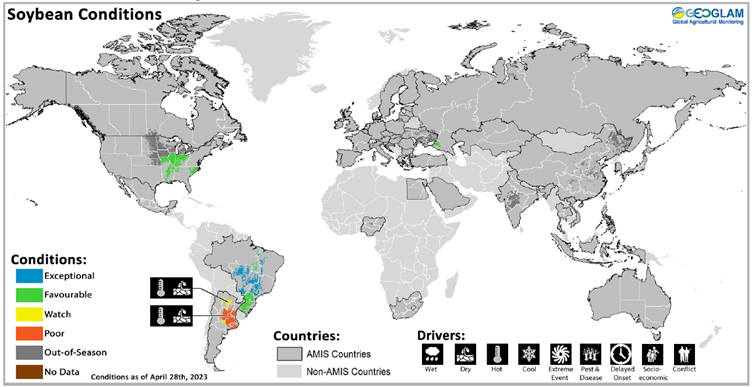 In Brazil, harvesting is wrapping up with exceptional yields in the Central-West, Southeast, and Northeast regions.
In the South region, despite the lack of rain and high temperatures in Rio Grande do Sul, the favourable conditions in the other states were enough to result in a regional yield close to the 5-year average.
In Argentina, harvesting is progressing for both the early-planted crop (larger season) and the late-planted crop (smaller season) with low yields so far.
The poor crop conditions are a result of water deficits and extreme heat throughout the season, which also occurred at critical moments of yield development.
Many affected crops were abandoned or used as fodder.
In the US, conditions are favourable as sowing begins in the southeast and the lower reaches of the Corn Belt.
World supply-demand outlook
SOYBEAN 2022/23 production was downgraded for the third consecutive month, with a lower forecast for Argentina amid persistent hot and dry conditions outweighing an upward revision for Brazil.
Utilization in 2022/23 trimmed m/m, chiefly reflecting expectations of reduced crushings in Argentina and Egypt, while global consumption is seen growing by only 0.8 percent from the previous season.
Trade in 2022/23 (Oct/Sep) lifted marginally, as a higher import requirement by Argentina was largely offset by lower purchases by Egypt, while on the export side, lower sales from the US were compensated by higher exports from several other origins.
Stocks (2022/23 carry-out) are virtually unchanged, with projected higher ending stocks in Brazil offsetting forecasted reserve releases in Argentina and Ukraine.
International prices
Average international prices retreated by 4 percent during April, pulled lower by softer South American quotations. With prospects for a heavily reduced crop in Argentina largely priced into the market, the sentiment was weighed by outlooks for a record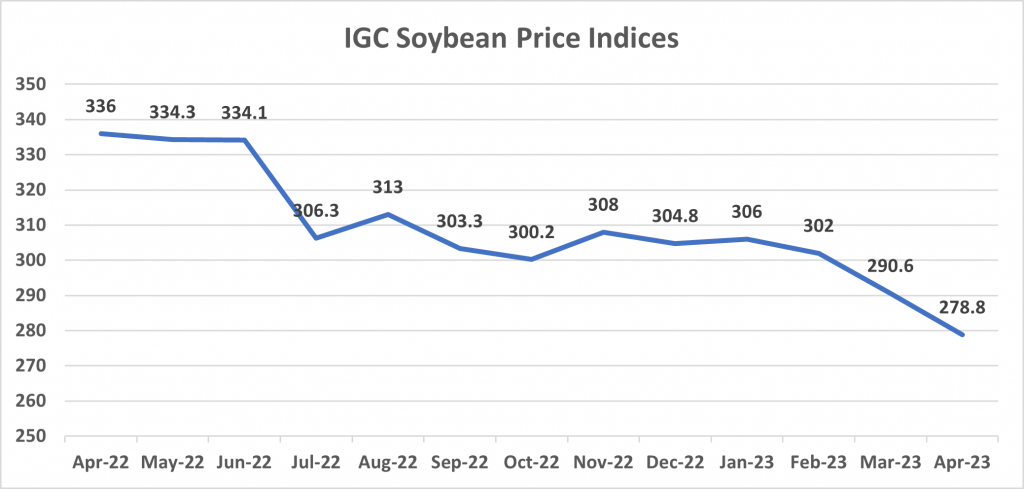 Brazilian outturn – harvesting of which was well advanced – and sizeable export availabilities. With an uptick in grower sales contributing to historically low export premiums, Brazilian supplies (Paranagua) were especially competitive, being more than USD 100 below US Gulf old crop export values. Weakness in outside markets, including energy, and softer soya product values added to pressure at times.
Futures prices
Grain and soybean prices displayed a downward trend in April, soy dropping to a 1-month low. In the case of soybeans, declines are mainly due to improving weather in the US and good planting progress, with the brisk pace of exports from Brazil providing additional downward pressure. The maize and soybean futures markets experienced a sudden dip in prices at the end of April as China canceled large imports from the US, reversing the country's brisk demand displayed at the end of March.
Policy Developments
On 9 April, Argentina reintroduced the preferential exchange rate for soybean until 31 May; it is now pegged at ARS 300 per USD (see AMIS Market Monitor October 2022), higher than the official rate of ARS 230 per USD. On 10 April, this "agri-dollar" scheme (previously referred to as "soy-dollar") was extended to more than 50 products, including biodiesel but excluding wheat and maize.
On 14 April, the Ministry of Agriculture and Rural Affairs in China issued a three-year action plan to reduce soymeal use in animal feed. This initiative aims to decrease dependence on soybean imports. The new strategy proposes reducing the percentage of soymeal in animal feed to below 13 percent by 2025, which would be 1.5 percentage points below the 2022 level (see AMIS Market Monitor October 2022).
Source: AMIS: The above is an extract from the AMIS May 2023 market monitor published this week. It covers international markets for wheat, maize, rice and soybeans. This extract relates to Soybean only.  To read the complete edition click here.