According to the India Meteorological Department (IMD), in an extended range forecast for the next two weeks, Many parts of India will continue to get isolated rainfall till April 12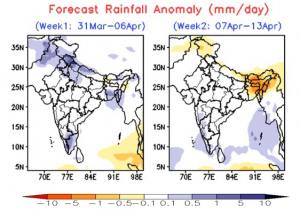 The crops that are ready to be harvested, which have already sustained significant damages as a result of the persistent rains in March, may be further impacted by this. Rains may cause a delay in the standing wheat crop's harvest.
The IMD also revealed that between March 1 and March 29, the country received about 26% more rain than average, with Central India receiving the most rain—202% more than usual—followed by Southern Peninsular India, East and North-East India, and Southern India.
Currently, La Niña conditions are prevailing over the equatorial Pacific region. The La Niña is likely to weaken and turn to El Nino Southern Oscillation (ENSO) neutral conditions during the pre-monsoon season.