In the ongoing kharif 2023 cropping season, soyabean has been planted on about 12,540 thousand  hectares as of September 8, showing positive movement over the same period last year's 12,406 thousand hectares.
Farmers have increased the number of acres planted with soybeans in Maharashtra, Gujrat, Telangana, and Uttar Pradesh.
Madhya Pradesh contributes to the largest sowing acreage among the other Indian states, covering 5,335 thousand hectares of land with a 1% decrease in area as compared to the 5,387 thousand hectares of sowing during the same time last year.
Maharashtra ranks second among the states in terms of sowing area progress, with 5,069 000 hectares of planted land. In comparison to the 4,876 thousand hectares over the same period last year, this figure shows a rise of 4%.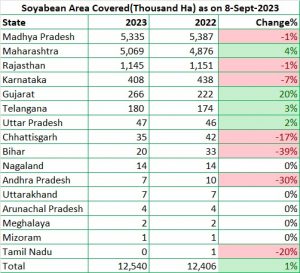 Source: Ministry of Agriculture and Farmers Welfare, Government of India